From the name, you can understand Dogelon Mars sounds like Dogecoin and Elon Musk. Although it is based on Ethereum and Polygon blockchain, you cannot use it for payment. Like many meme coins, it is also influenced more by social media news.
Indeed, it has built a solid community of more than 80,000 Twitter and Telegram followers. Interestingly the founder of this coin is anonymous, and it is typical for meme coins. Several short comics are published on the website related to the Dogelon Mars' adventure to Mars, aiming to solve the greatest mystery of the galaxy.
Instead of this humorous side, ELON does not have much utility in the real world. However, the names 'Dogecoin' & 'Elon Musk' highly influence what the coin has in store for its investors in the future. It seems to be a nice opportunity to gain long-term profit on this coin.
The developers of this coin seek to make it a community-based token, which can be a universally acceptable currency. The token is available on many trading platforms, but it is not used as a payment system; you can treat it as an asset. However, we think the coin is at an early stage, so it can be very volatile. Thus, you should invest in it very carefully.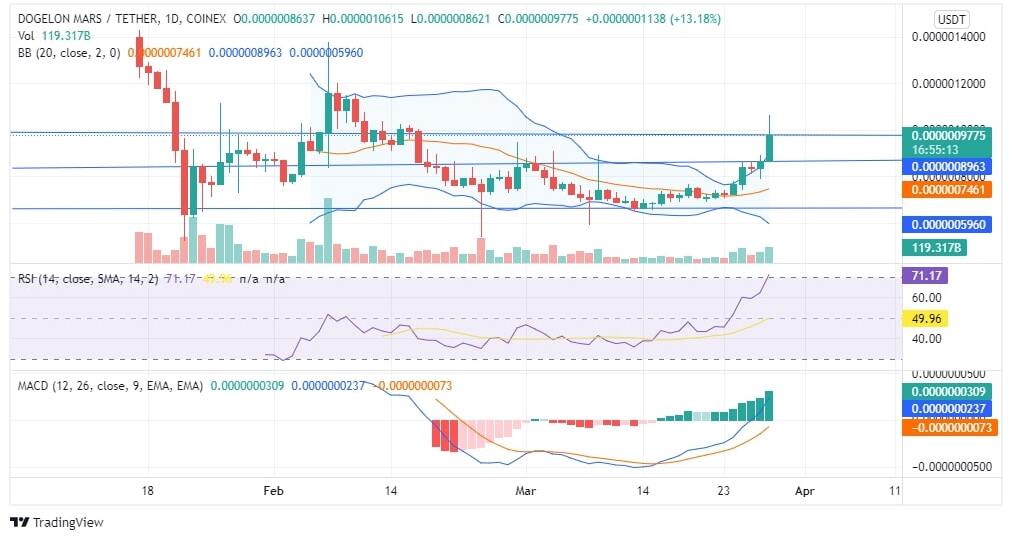 At the time of writing this post, ELON was trading around $0.00000097. The coin looks bullish, at least in the short term, but we have to analyze the ELON price chart to know more about it. The price is falling from 24H high of $0.000000996, but it is expected to increase as the global crypto market is showing positive signs.
On the daily chart, the MACD line is also bullish, the RSI is in the overbought zone, and candlesticks are forming in the upper half of the Bollinger Bands. Overall, the Dogelon Mars coin is bullish in the short term. However, is it the ideal time of investment? Click here to know the answer and Dogelon Price Predictions.
We have to analyze the long-term support and resistance levels before making any investment-related decision.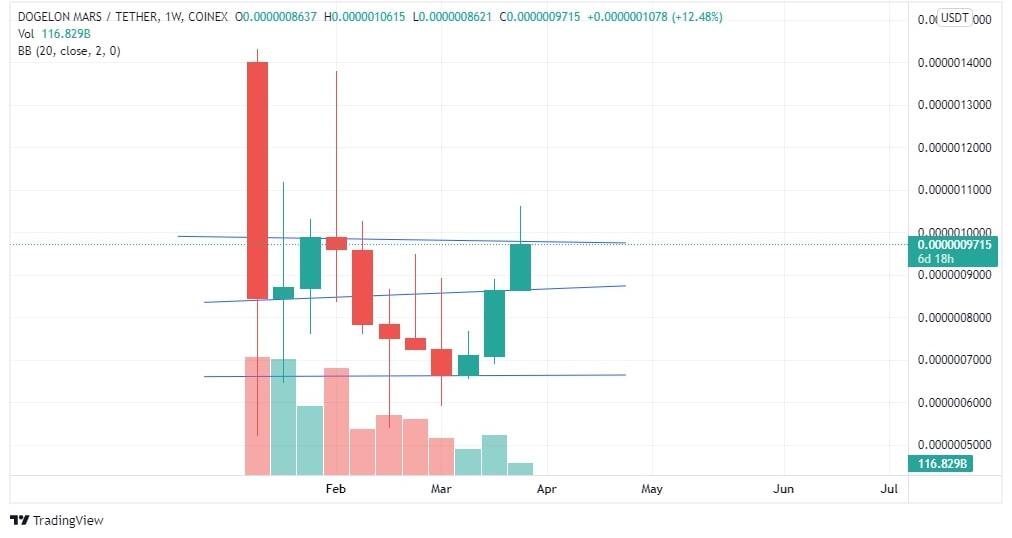 On the weekly chart, $0.00000097 is the strong resistance level, whereas $0.0000009 and $0.0000006 will work as support levels. We think it is a very early stage, so it is not the ideal investment time for the long term, but in the short term, these levels will play a significant role.