Chainlink, in April 2022, has a market capitalization of $22,359,794,514 with just a 47% token in circulation out of its total 1 billion tokens. The sole purpose behind developing such a blockchain was to incorporate an abstraction layer that allows users to combine several smart contracts.
Chainlink allows blockchains to initiate a secure interaction of external data feeds and payment methods to feed off-chain data sources to complement its smart contract ecosystem. Their focus on decentralized participation of node operators, developers, auditors, and researchers ensures the development of an open-source ecosystem.
Because of its capability to integrate off-chain data into smart contracts due to its wide range of network operators, it has become one of the leading players in the data processing domain. Users can join Chainlink as a node operator and generate revenue by providing some critical data infrastructure. This system of off-chain data incorporation fosters the growth of modern era DeFi blockchains and service providers.
Chainlink shows a long-term tussle between $38 as a resistance level and $11 as a strong support level. The recent fall from its all-time high of April is a 66% decline. The price trend compared with technical indicators shows a lack of buying sentiment and short-term volatility as the core cause. Click here to know more about LINK price prediction for the next few years.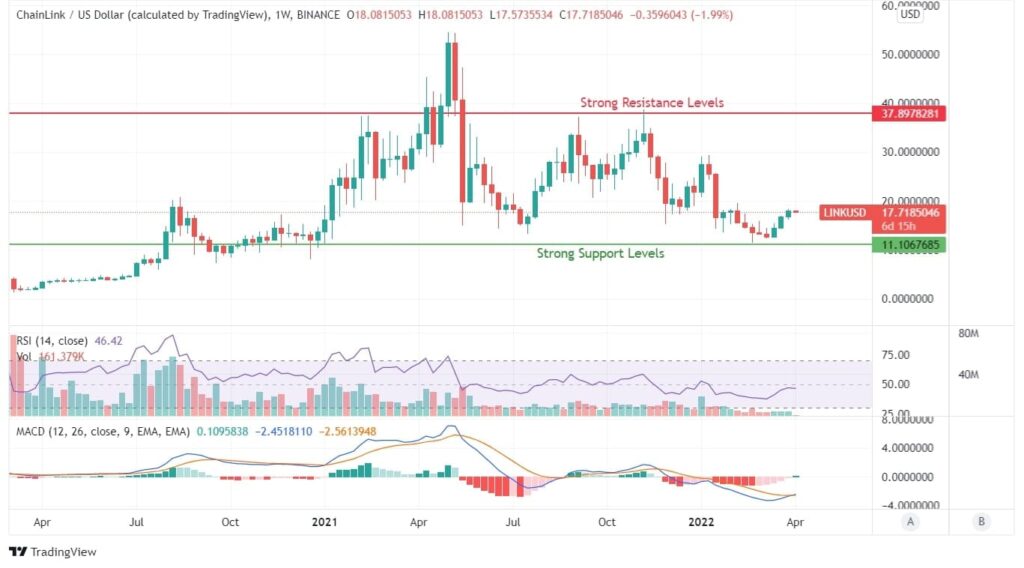 The price trend on Chainlink is currently emerging from a major low level that coincides with the support of July 2021. While the value might have tanked some more, its retracement to previous support levels indicates better support at the $12 level.
Apart from this value, the immediate resistance level of $30 becomes a critical level to watch out for. RSI can be seen taking a decent jump from February levels, but still, it doesn't match the buying strength seen a year ago. MACD line, on the other hand, shows a crossover of major moving average levels creating a bullish scenario on shorter time scales.
With dipping volumes and mixed indications, LINK needs a rally beyond $20 to feed a positive vibe into the buyers of its blockchain ecosystem.