In the times we live in today, anonymity offers the best security from a vast majority of issues. As such, considering the growth of blockchain and cryptocurrency transactions grew, a futuristic blockchain that addressed this particular shortcoming. XMR was launched back in 2014 that obscured senders and receivers using advanced cryptography. Payments made through the XMR network were devoid of anything inexpensive without fear of censorship.
XMR currently holds the 38th position among other cryptocurrencies with a combined market value of USD 4 billion. Around 18 million XMR tokens have already entered the markets and are in circulation. Given the fact that XMR holds a limited token quantity, the price trend can quickly turn bullish. 
Monero Price Analysis
March 2022 has become a month to cherish for Monero, with prices constantly moving up from their recent low. On the back of this uptrend price action, XMR also shows a sudden rise in buying sentiment, with transaction volumes consistently maintaining the same level. On other technical indicators, some mixed signals are disrupting the sentiment or offering a buying scenario at current values. Click here to know more about the future potential of Monero with possible price levels.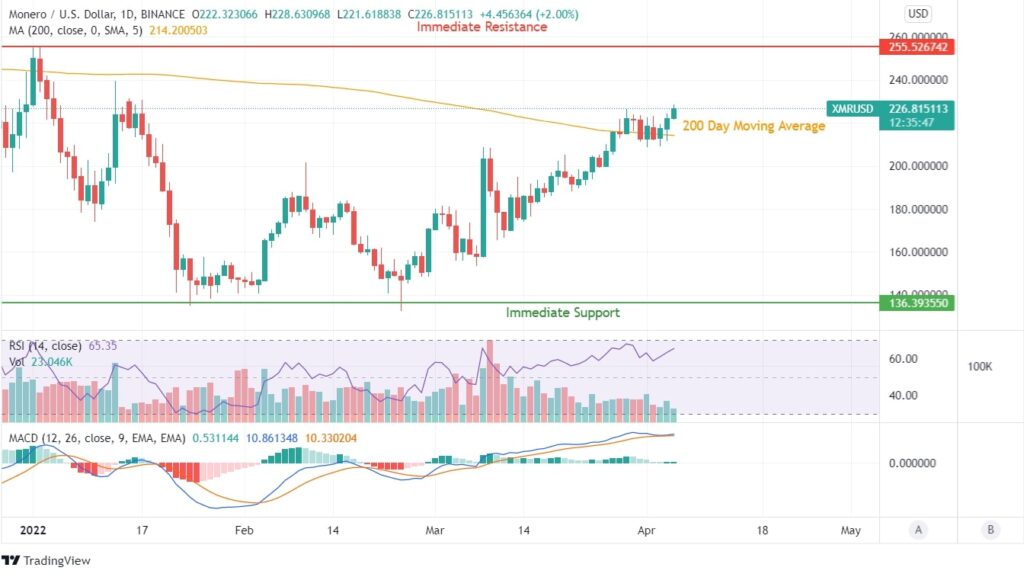 Monero price analysis shows a strong buying sentiment developing at XMR since the beginning of this year. Even in April, this sentiment is slowly growing, and with the immediate resistance coming down to merely 12% from the current trading value of $226, which gets support from breaching the 200 DMA resistance and turning it into strong support, we can expect XMR to continue challenging previous important levels. The price action seems stronger as it is backed by technical indicators and moving average-based support. It took XMR roughly six weeks to overcome the sell-off that took place in just one week. Expecting the sellers to re-enter the XMR markets, we can easily witness it will surpass the expectations.