Avalanche is a blockchain and smart contract platform based on proof of stake consensus. It is compatible with Ethereum Virtual Machine, which provides the best user experience on layer one blockchains.
It is a scalable and fast blockchain that can handle 4500 transactions per second. Besides that, it has the highest number of validators securing the network. The protocol was proposed in 2018, but it was launched on the main net in 2020. It was improved and developed by Emin Gun Sirer and other researchers at Cornell University.
Many decentralized networks are based on old consensus protocol, and they face problems with scalability, but Avalanche comes with new concepts with random node sampling that is more scalable and faster than many other cryptocurrencies.  
It consists of three integrated blockchain validators. These are:
Exchange Chain (X-chain): For exchanging assets on the network. 
Platform Chain (P-Chain): For creating subnets on the network. 
Contract Chain (C-chain): For creating and executing ECM contracts.
Avalanche provides the tools needed to create subnets or customized blockchains. It is fully compatible with Ethereum assets, so people create customized applications and move the decentralist applications on Ethereum.
Avalanche has the potential to become a top layer-1 blockchain because it provides high-speed transactions and popular DeFi applications.
Last year, Ethereum documented a scalability issue that forced many DeFi users to use a new blockchain ecosystem; thus, Avalanche benefited by growing their community base. It provides a promising DeFi ecosystem. After Avalanche Foundation announced a $230 million fundraise, the AVAX coin price rallied to a new all-time high.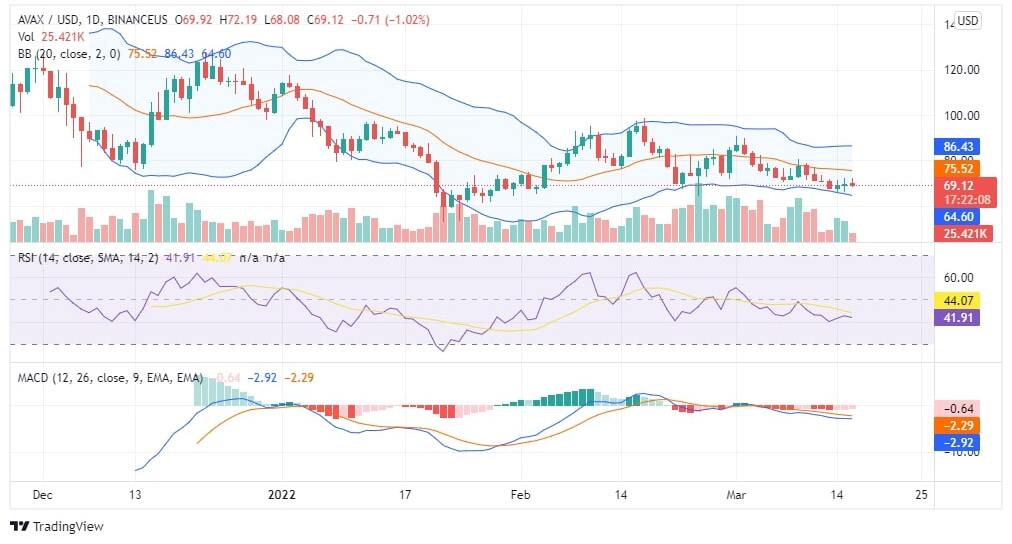 At the time of writing this post, AVAX was trading around $69, which was a support level. In the last couple of months, the price has been consolidating within a range of $67 and $95. If it crosses this level, then $100 would be the immediate resistance level.
On the daily chart, the MACD is bearish; the RSI is around 42, and candlesticks are forming in the lower half of the Bollinger Band, so all these indicators suggest the bearishness for the short term. Check out detailed AVAX price prediction by clicking here!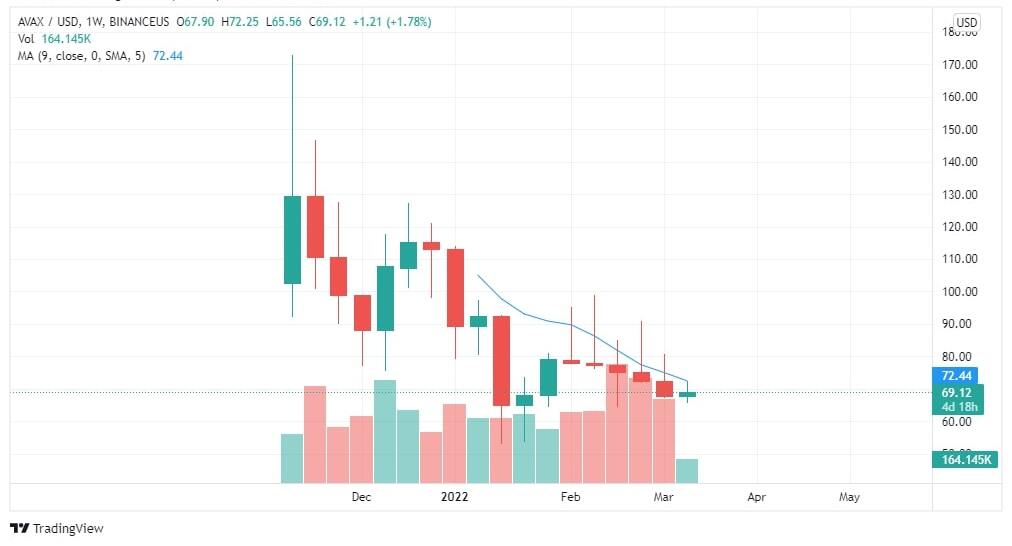 To get a long-term view, we have to analyze the weekly chart. On the weekly chart, it has taken support around $60 and is trading just below the Moving Average line.
We think it is the ideal time to accumulate this coin for the long term. In 2022 the coin can be volatile in the consolidation period, so you should keep an eye on the price.