One of the biggest industries for leading tech companies in the 21st century is the marketing and advertising industry. One must have heard about the advertisement economy of Youtube, Instagram, and other digital platforms. In 2022, BAT has slipped to the 78th position in terms of market capitalization with a net value of little under 1 billion USD; the digital advertisement economy is 330 Billion in 2022. BAT aims to provide an ecosystem where both users and advertisers get rewards while their platform benefits from the surcharges. BAT discharges its service through its browser, Brave. It not only provides a level playing field but also secures the users from ad targets while maximizing its reach to the target audience.
Basic Attention Token is held in over 368000 wallets with over 20 million users on its Brave Browser. This number may be small, but the superior user experience of Brave browser will slowly ensure the success of BAT token in the years to come.
BAT Price Analysis
BAT remains one of the services offering tokens possessing the potential to grow and excel in the coming years. With the growth of the digital economy, the ad market is also set to explode, reeling in more users for the Brave ecosystem.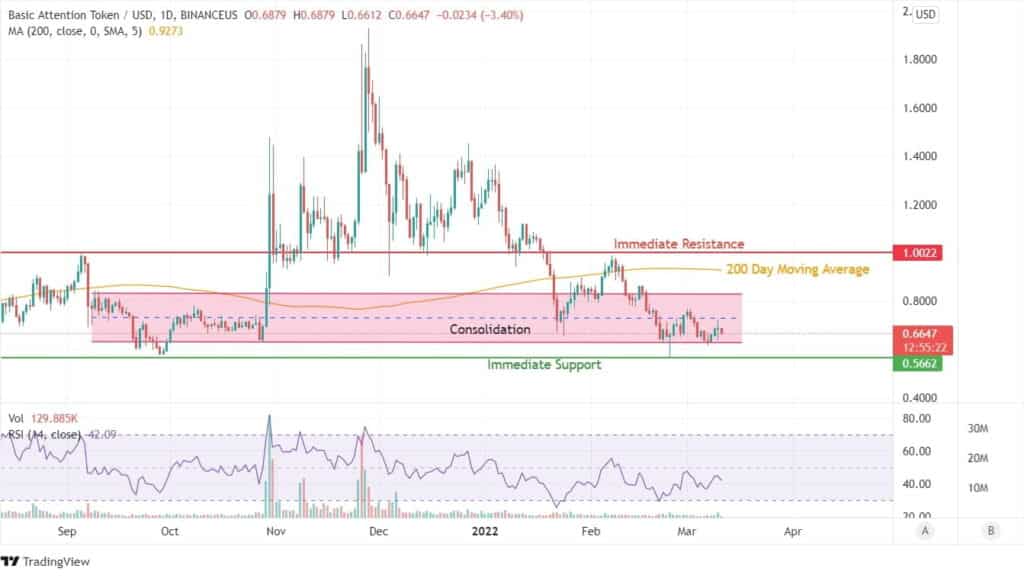 BAT token despite its fundamentals, is also a digital asset trade through various exchanges. The growth of prices can only be sourced from its exponential user growth and better user experience. $0.50 has been a critical support level to watch out for, while $0.65 has helped BAT overcome profit booking sentiment at multiple instances. If you are looking to invest in the BAT token, click here to know more about the future forecast for the following years.
Despite the declining RSI trend, there has been a quick bounce back with sudden buying rallies. A trading sentiment above $0.80 can be considered positive. The current trend showcases BAT as a highly attractive token. The sentiment below $0.50 seems grim, but BAT is incapable of offering a quick gain as it depends on users to utilize more BAT tokens. Accepting and utilizing a cryptocurrency would take much more time and developing advanced technologies that can revolutionize a centralized process.