Binance is the world's second-largest crypto exchange. BNB is the native coin of Binance, which is used for trading, exchange currencies, and payment fees. The value of the BNB has been rising with the growth of popularity. BNB is a native coin, but investors cannot claim the profit of the Binance network by investing in BNB cryptocurrency.
Binance exchange has liquidity in many different cryptocurrencies, especially in Bitcoin. Many new coins are listed on the Binance exchange rather than on other exchanges, especially from Eastern countries. It has a user-friendly and intuitive interface with clear graphs, charts, indicators, and information you need before investment.
It moves in the sector of fiat to crypto payments technology by launching its own payment provider Bifiinity. It connects traditional financial systems with crypto service providers. It supports 50 cryptocurrencies, including Bitcoin (BTC) and Ether (ETH). It offers merchants to adopt crypto services as a preferred payment mode.
Let's analyze the price chart of BNB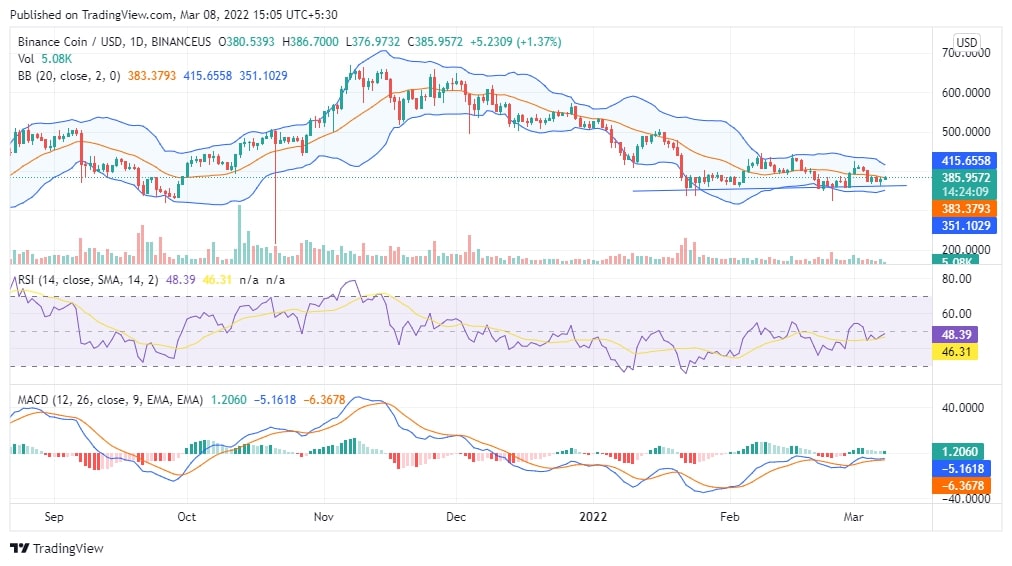 At the time of writing this analysis, BNB/USD is trading at $385. We can see a sideways movement from the last two months in the range of $500 and $350. We do not think the price will rise within the next two weeks. On the daily chart, MACD is bearish, the RSI is around 45, and candlesticks are around the baseline of the Bollinger Band.
It shows the chart is in a sideways movement, and it will continue for the next couple of days. However, these indicators also suggest the price will break the resistance or support level very soon, but the probability is very low now. The daily candlesticks show the price will reach $410 before falling to the level of $350. If traders or investors want to invest or trade BNB, it is better to read more here to explore the fundamentals and technicals of Binance Coin for the following year.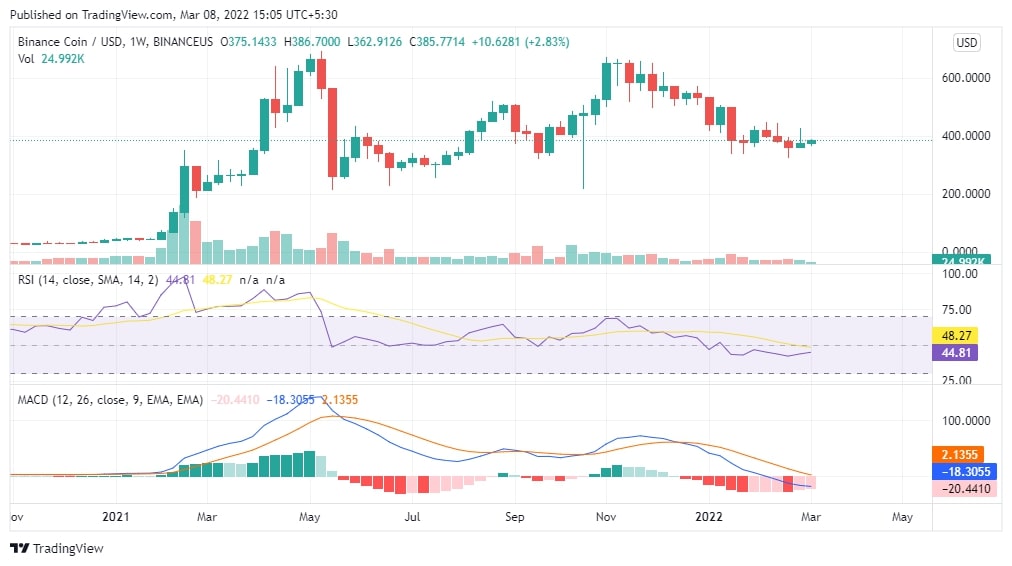 On the weekly chart, the situation is different. After the fall in the month of May last year, it has been forming higher highs and higher lows which reflects the strength of the chart. Due to various reasons, the price has been consolidating in the last two months, but the 50 days Moving Average line around $500 will work as a strong resistance level. On the other hand, the MACD and RSI do not show any strength in the chart, which suggests a continuation of sidewise movement.
Binance is a popular coin, and it is at the support level of $350, so we think it is the ideal time to invest for the long term. You may not get this level after a few months. If you are waiting to invest in a reliable cryptocurrency, then Binance is one of them.  
The price will be volatile in the next couple of months, but you will get the latest updates on crypto markets on this website.