TRON is a blockchain-based decentralized platform founded by a Singapore-based TRON foundation. At the very beginning, they aimed to target the global entertainment industry, but later they expanded into the gaming industry. They are focusing on capturing the entire dApp market. 
The platform helps cut out the intermediaries like Apple or Google store; instead, it aims to cover the gap between content creators and consumers. It not only helps in transparency but also helps in the monetization process. The advertisers, content creators, and users will be paid fairly in this decentralized ecosystem.
They allow storing and distributing digital content on their platform. In this way, they aim to place the ownership back to the creator. It helps to demolish the duopoly business in the digital advertising sector. Now the company is seeking long-term investment and pushing short-term investors away. It provides upward mobility, and the longer your tokens are locked, the more TP will be rewarded to you. Top Chinese developers support TRON, and it will continue to expand its use cases in different other sectors. Indeed, it has a great future ahead.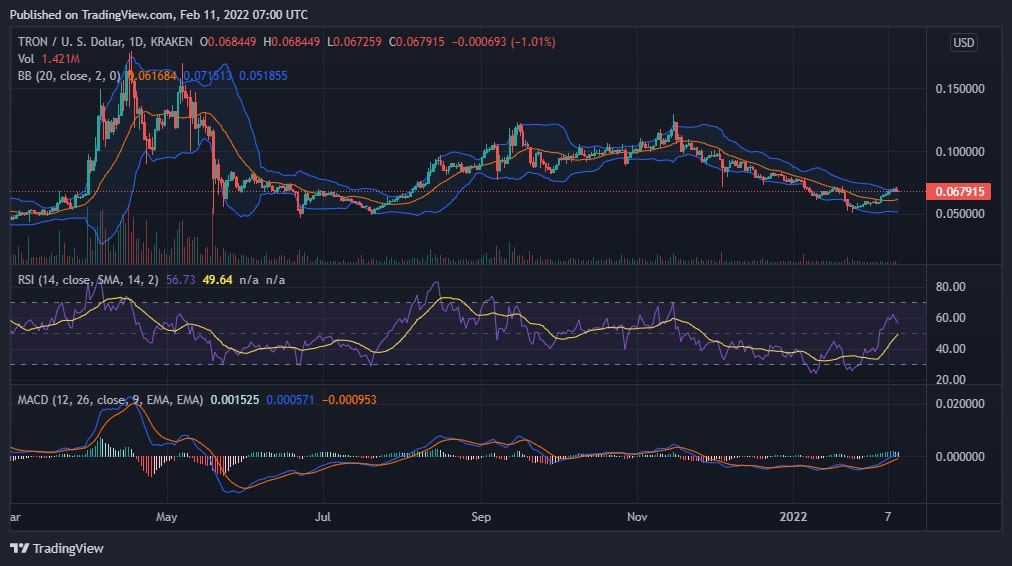 Writing this analysis, the TRON price is trading around $0.067, which is a resistance level. Previously, the chart has changed its momentum from this level a few times. Will TRX break the resistance? Let's introduce some technical indicators to find out the answer.
On the daily chart, MACD is bullish, and RSI is also coming down from the overbought zone, which is a good sign for long-term growth. The candlesticks are also in the upper half of the Bollinger Band, which also reflects positive momentum. Overall, it is a bullish chart, the TRX price may come down to the baseline, but it will break the resistance level within a few weeks.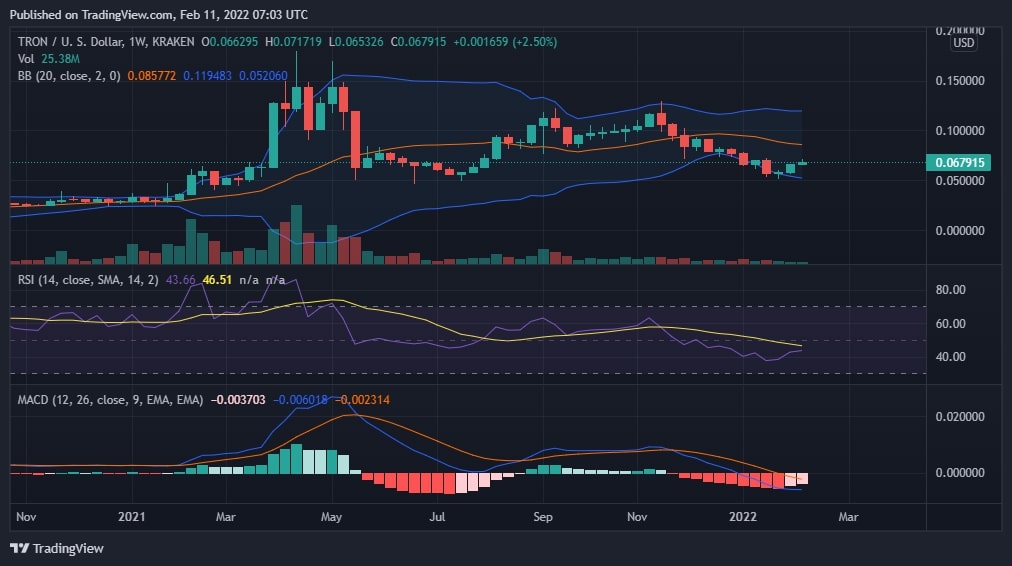 Though the MACD is bearish on the weekly chart, the candlesticks are rising from a strong support level. In the short term, TRON's price will reach the level of $0.084. The RSI is stable at 45, and the Bollinger Band is also neutral. Indeed, $0.11 is a strong resistance level of this token, and we think it will not cross the level this year. It is a good chart for long-term investment. You may get quick profit in the short term, but you should invest with a long-term view for a headache-free maximum return. Traders should do their own research and explore experts' predictions to find more details of the future of TRON.
However, we will be interested in finding how this project develops with more focused use cases. Indeed TRON is supported by many influencers in China, and it has an experienced development team.