WINkLink comes with the solution of connecting off-chain data to on-chain networks. It is based on the TRON system and has provided a worldwide adaptable oracle solution through TRC 20 native token. The native token is called WIN. WINkLink focuses on lightning-fast speed and secure transactions. It has a fully integrated Oracle-based gaming platform that provides a surreal experience to gamers.
It is backed by an experienced team of software experts who ensures the ecosystems functions properly and connects authentic off-chain data to on-chain networks. WIN is the native token that is used to facilitate payment and gas fees during transactions.
The best part is it has successfully tried different types of real-world use cases such as sports, games, finance, weather, and many other sectors. It is a decentralized Oracle ecosystem that provides more security and reliability than a normal oracle network.
Should you buy WINkLink? Let's analyze the price chart of WIN tokens.
WINkLink's price today is around $0.0003. It has been standing near its support over the last six months. In the last couple of months, it has been forming lower highs and lower lows, which suggest bearishness on the chart.
The MACD and RSI are neutral on the daily chart, and the RSI is around 40; the last candlestick is forming in the lower half of the Bollinger Band. All these indicators reflect a consolidation phase. Hence, it is the right time to enter the trade. Still, traders should read more about WINkLink's future.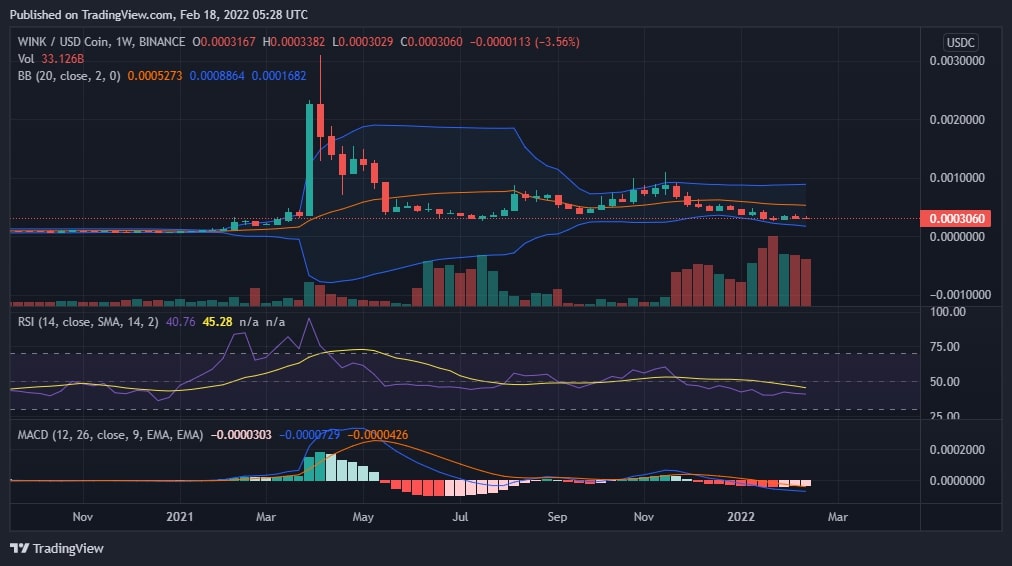 After making a recent high of $0.001, it has been in a downtrend. On the weekly chart, the story is not different. Even in this chart, MACD and RSI are bearish. Moreover, the candlesticks form in the lower half of the Band around the support level. From the above chart, only the positive side is the price is defending the support level very strongly. So we can expect that the price will not go down further.
Moreover, on the weekly time frame, we can see that it has been forming higher highs and so we can expect another high this year. Another interesting aspect is the increase in volume in the weekly chart, and analysts think it will hit another high this year, which builds up the expectation of WIN followers.
Should you invest in WIN coin? We think it is the right time to invest in the coin because it has been defending the support level very strongly, and it may rise from this level in the future so that it will give a good return on your investment. However, we would recommend you to invest a small amount now until it crosses the level of $0.005.